2019 Maud Lewis - Heritage Day Events
Maud Lewis is being celebrated in variety of colourful and appreciative ways across many communities of Nova Scotia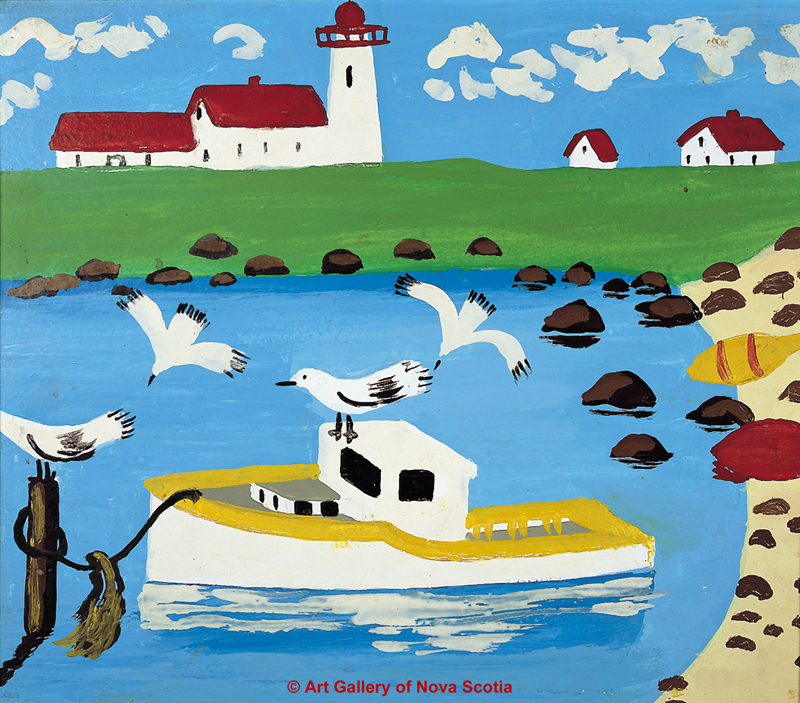 Check out what is happening in your community to celebrate Heritage Day:
The Arthritis Society – Nova Scotia
The Arthritis Society of Nova Scotia is hosting a public event:
Life of Maud Lewis
Wednesday February 13th 7pm-8:30pm
Guest speakers:
Sarah Fillmore, Chief Curator and Deputy Director of Programs, Art Gallery of Nova Scotia
Dr. Volodko Bakowsky, Interim Chair, Division of Rheumatology, Dept. of Medicine, QEII Health Sciences Centre and Dalhousie University
Join us for engaging presentations on the life and art of renowned Nova Scotia Folk artist, Maud Lewis. Following the presentations, there will be refreshments and an opportunity to visit the Maud Lewis Gallery at the Art Gallery of Nova Scotia. Each guest will go home with a commemorative souvenir.
This event is free and open to the public, but those wishing to attend MUST REGISTER IN ADVANCE by calling, (902) 429 7025. Seating is limited.
Nova Scotia Public Libraries
More than 100 programs scheduled in public libraries across the province!
This exciting series celebrates and highlights Maud Lewis and her contribution to Nova Scotia and includes everything from: "Paint Like Maud" programs, film screenings, crafts, folk art workshops, artist talks, children's programming, teens, seniors and more.
View the list of programs taking place
View the Library Resource List to find books & other resources available about Maud Lewis
Contact your local public library for program details or to find out what's happening – http://publiclibraries.ns.ca
Archives of Nova Scotia
Wednesday February 13th 7pm to 8pm
Films
The Illuminated Life of Maud Lewis (50 min)
Maud Lewis: A World Without Shadows (10 min)
Thursday February 14th 2:30pm-3pm
Alexander Leighton – Digby County footage showing Maud & Everett Lewis
Halifax Cablevision interview with Lance Woolaver & Bob Brooks by Lesley Choyce re: book The Illuminated Life of Maud Lewis
Still Photo slideshow with radio interviews from 1984 -85 re: Maud Lewis house, NS Folk Art & Maud Lewis Retrospective
Friday February 15th 1:30pm-3pm
Repeat of Thursday's program
All events will take place at:  Akins Room, 1st Floor Nova Scotia Archives, 6016 University Avenue.  Admission is free.
Nova Scotia Museums
Several museums are open on Heritage Day, Monday February 18th and offering programs. See the complete list.
At the Museum of Industry celebrate Heritage Day with free admission from 9-5 pm. Kids can grab some brushes and make some art with guest artist Luke Naylor.  Join Luke as he guides you through painting a picture inspired by Maud Lewis. Drop-in through the day, 10:00 – 4:00.  Visit our feature exhibit, Vanguard. 150 years of Remarkable Nova Scotians. It honours the lives and work of 32 Nova Scotians from the last 150 years. The Museum's hands-on exhibits will be open through out the day.
https://museum.novascotia.ca/events
Art Galley of Nova Scotia
The Art Gallery of Nova Scotia is hosting special events for Heritage Day. For a complete list visit:
https://www.artgalleryofnovascotia.ca/events-programs/maud-lewis-heritag...